About "Vanguard ZERO"
The wait is over!!
"Vanguard ZERO", the definitive Card Fight RPG based on the highly acclaimed TCG, "Cardfight!! Vanguard", for iOS and Android mobile devices is now available for download!!
A rich Story Mode and a plethora of Quests will keep you occupied in solo play, but the main course is definitely the white-hot competitive PVP modes where you can battle players all over the world, or engage your friends in a Friend Fight!
Players can also look forward to a mobile game filled with Vanguard's charms such as characters, individual stories, cardfights, and the "My Room" feature where you can customize your personal space with your favorite characters and furniture.

HOME
The setting is card store Card Capital… Enter into the world of Vanguard and interact with the characters there!
Of course, you will be able to set your favorite characters to greet you each time in the Home menu.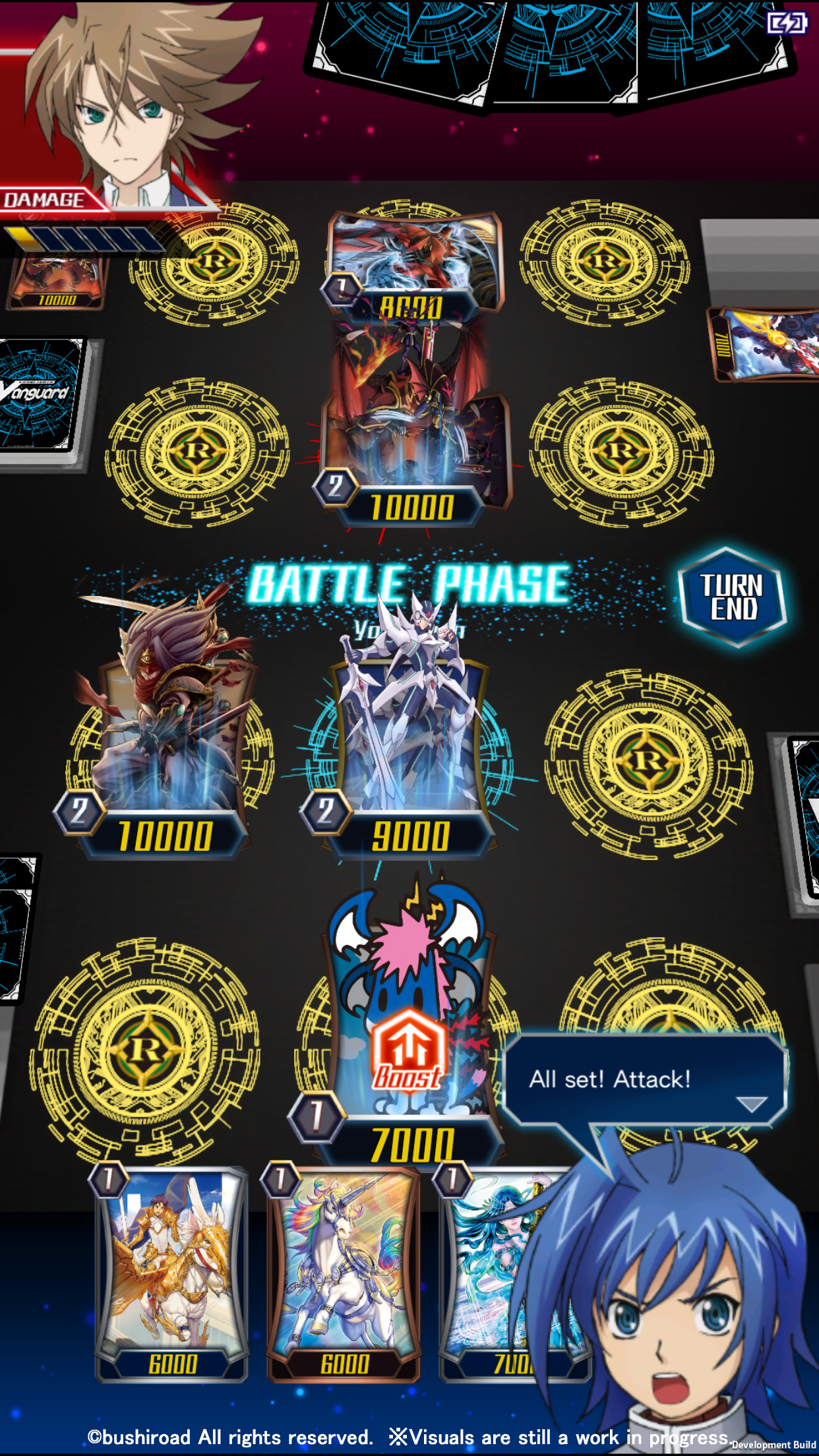 FIGHT MODE
Enjoy Vanguard cardfights on the go with ZERO's optimized rules!
Hone your skills against the CPU, or test your mettle online in real-time against players all over the world!

STORY MODE
Painstakingly crafted from scenes of the animation and BGM soundtracks!
Relive the story from the beginning, or enjoy it as someone fresh to the world of Vanguard!
Defeat the rivals that stand in your way and complete the Story Mode!

MY ROOM
Create a room unique to yourself, by customizing it with your favorite furniture and characters!
Exclusive conversations between the characters, fully voiced by the anime voice artistes, can be experienced in My Room! Not to be missed by fans!
More than 50,000 players pre-registered!
A big thank you to everyone who has participated in the pre-registration events for "Vanguard ZERO"! We have hit our target of 50,000 registrations of interest as of 29/03/2020!
Please look forward to the 20 Booster Packs that will be sent to all players!!
The rewards have been sent out to players from launch day itself, and can be claimed from the in-game Gift Box.

CHARACTERS

Aichi Sendou (CV: Tsubasa Yonaga)
The male protagonist of the story. Timid and nervous, but kind-hearted.
His story begins the day he encounters Kai and the world of Vanguard.

Toshiki Kai (CV: Takuya Sato)
Kai's skills as a Vanguard fighter are considered to be top-notch.
The person to first introduce Aichi to the world of Vanguard, he seems to be a different person now…
Unique characters from the anime all make an appearance!
Kamui Katsuragi (CV: Shizuka Ishikawa)
Misaki Tokura (CV: Izumi Kitta)
Taishi Miwa (CV: Showtaro Morikubo)
Emi Sendou (CV: Atsuko Enomoto)
Shin Nitta (CV: Shuta Morishima)
Kenji Mitsusada (CV: Kenji Akabane)
Gouki Daimonji (CV: Kentaro Ito)
Ren Suzugamori (CV: Atsushi Abe)
Tetsu Shinjou (CV: Tetsu Inada)
Asaka Narumi (CV: Hitomi Nabatame)
Kyou Yahagi (CV: Akeno Watanabe)
Katsumi Morikawa (CV: Noriaki Sugiyama)
Yuta Izaki (CV: Takayuki Yamaguchi)
Kourin (CV: Suzuko Mimori)
Rekka (CV: Yoshino Nanjo)
Suiko (CV: Aimi)
and more!
Sites related to the Vanguard Project
[Cardfight!! Vanguard Official Website] https://en.cf-vanguard.com/
[Vanguard ZERO EN Official Website] https://vgzero-en.bushiroad.com/
[Cardfight!! Vanguard Official Youtube] https://www.youtube.com/user/CARDFIGHTVanguard
Official Vanguard ZERO SNS accounts
[Vanguard ZERO Official Facebook] https://www.facebook.com/vanguardzeroEN/
[Vanguard ZERO Official Twitter] https://twitter.com/vanguardzero_EN
 
Game Basic Information
The game is available for the following countries:
Australia, Austria, Bahamas, Belgium, Bermuda, Bolivia, Bulgaria, Cambodia, Canada, Cayman Islands, Chile, Costa Rica, Cyprus, Czech Republic, Denmark, Dominican Republic, El Salvador, Finland, France, Germany, Greece, Hong Kong, Hungary, Iceland, Ireland, Italy, Indonesia, Israel, Jamaica, Kuwait, Liechtenstein, Lithuania, Luxembourg, Malaysia, Malta, Mexico, Netherlands, New Zealand, Nicaragua, Norway, Oman, Panama, Paraguay, Peru, Philippines, Poland, Portugal, Qatar, Saudi Arabia, Singapore, Slovakia, South Korea, South Africa, Spain, Sweden, Switzerland, Taiwan, Thailand, Trinidad and Tobago, United Kingdom, United Arab Emirates, United States of America
Genre: Card Battle RPG
Publisher: Bushiroad International Pte Ltd
Developer: Gamestudio Co., Ltd
Platforms: iOS, Android
Price: Free (with in-app purchases)